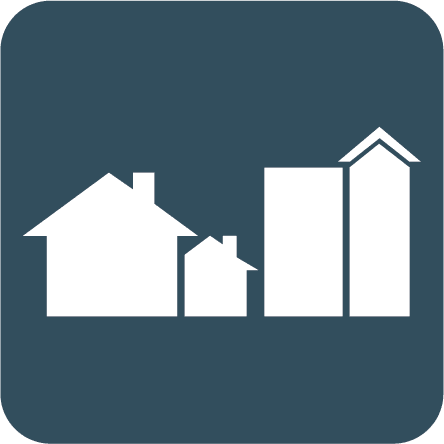 HOUSING [HOU]
The availability of safe, quality housing is essential for the stability of a community and residents' overall quality-of-life. Available housing should meet the various needs across the population, and housing location and options influence household spending. Residents can benefit from safe and convenient connection to jobs, schools, and daily services and amenities. It must also be recognized that there is a connection between housing to the County's overall economic growth, with economic benefits stemming from the provision of housing that is available and attainable to the local workforce. The Housing chapter establishes policies that strive to achieve a range of housing types, sizes and costs, to equitably meet the needs of the County's residents.
Everyday Actions
Pinellas County offers a variety of housing assistance programs for homebuyers, homeowners and those looking for affordable rental housing opportunities. You can find out more about these programs at: http://www.pinellascounty.org/community/default.htm and http://www.pinellascounty.org/hfa/default.htm.
Goals, Objectives, Policies & Strategies
Please see revisions made:
HOU GOAL 1 (Housing Options):
PROVIDE A RANGE OF HOUSING OPTIONS FOR ALL CURRENT AND ANTICIPATED FUTURE RESIDENTS.
Ensure that ample, affordable, safe and sound housing is available to accommodate current and projected housing needs and market demand.
Support a land use pattern that provides a wide range of housing options at varying densities, sizes, types and tenures in appropriate locations.
The Future Land Use Map will designate areas for varying densities and types of housing, as implemented through the Land Development Code, considering:
The natural environment;
Employment and education locations;
Transportation accessibility;
Support facilities and services;
Surroundings land uses; and
The integrity and viability of existing neighborhoods.
(Re)development of housing should promote sustainable development, such as:
Efficient use of land;
Conservation of natural resources;
Energy- and resource-efficient design and construction practices, and the use of renewable energy sources;
On-site accommodation for recycling by tenants and property owners;
Convenient access to public transit or other efficient modes of transportation; and
Convenient access to employment, education and parks.
Promote programs and funding opportunities for weatherization and/or hardening.
Encourage the integration of new housing development on developable vacant or underutilized land.
Ensure freedom of choice in housing type, tenure, and neighborhood for all, regardless of race, color, age, gender, familial status, sexual orientation, religion, national origin, income or ability.
Maintain and enforce the county Fair Housing Ordinance and the Pinellas County Human Rights Ordinance.
Provide housing opportunities for the elderly, mentally disabled, physically disabled, other special classes of persons, and other groups protected by the American Disabilities Act, in single, multiple or congregate living facilities.
Partner with Forward Pinellas, local governments and housing sector professionals on a Countywide Housing Strategy to address the availability of affordable housing opportunities throughout the County.
Ensure that housing is safe, sound, sustainable and provides a healthy home environment.
Ensure that all new housing (re)construction meets or exceeds required building standards.
Make information available to the public that emphasizes flood-proofing and the importance of "hurricane hardening" of existing housing units.
Support the preservation or redevelopment of manufactured home communities that meet or exceed required standards.
Make reasonable effort(s) to reduce/eliminate health and safety concerns for existing manufactured home communities or help to mitigate for the loss of housing for those who may be displaced due to substandard conditions.
Provide quality housing that is affordable to very low-, low- and moderate-income households.
Enforce the Pinellas County Housing Code to ensure that minimum housing standards are maintained to extend the lifespan of the existing housing stock.
Provide for the protection and preservation of historically significant housing structures.
Utilize the Land Development Code to address the protection, preservation and use of historically significant structures.
Facilitate affordable housing for very low-, low- and moderate-income households and support efforts to eliminate homelessness.
Advance programs and regulations for affordable housing and remove impediments to meeting this need.
Maintain and implement the County's Affordable Housing Incentive Plan (AHIP), providing incentives to encourage the private sector to integrate affordable units in new residential projects.
Utilize the Land Development Code to support a mix of affordable housing development opportunities, such as:
Establish that all residential land use categories and zoning districts shall permit the development of affordable housing;
Promote mixed-income communities with a variety of housing types, styles and tenures;
Evaluate the opportunity to allow for duplexes, triplexes and fourplexes in single-family zoning districts, where the design of which is in keeping with the intended character;
Provide density bonuses and other incentives to include affordable units as a portion of new housing development;
Support accessory dwelling units (ADUs) as a form of affordable housing that respects the character of the neighborhood. Utilize the Land Development Code to provide regulations for ADUs; and
Utilize the Land Development Code to provide regulations for the conversion of underutilized and outdated buildings into affordable housing.
Periodically review ordinances and codes to identify and remove limiting and conflicting requirements that impede the development of affordable housing.
Ensure that all households displaced by public action or private investment are relocated to safe, sound and affordable housing, and:
Determine the housing needs of displaced households prior to relocation;
Collaborate with the Pinellas County Housing Authority to provide replacement housing for qualifying households; and
Provide technical assistance to displaced households to find affordable housing.
Provide programs to assist low-income homeowners with housing repair or renovation to eliminate substandard conditions and preserve existing housing stock.
Prioritize permanent housing solutions and support additional efforts to end homelessness by:
Promoting the preservation and development of housing that is affordable for extremely low- and very low-income households and special needs populations to reduce or prevent homelessness;
Providing opportunities through the County for emergency sheltering while permanent housing is being secured;
Supporting and coordinating with the Pinellas Continuum of Care to prevent, divert and end homelessness; and
Supporting other identified community best practices.
Prioritize affordable housing development that is:
Proximate to concentrations of employment;
Accessible to public transportation; and
Accessible to a range of services.
Establish funding strategies and programs to support affordable housing, including:
Utilize federal, state and local housing funds to increase the number of affordable rental and homeownership housing units;
Maintain and administer a housing trust fund to support affordable housing projects and programs;
Utilize infrastructure surtax and housing grant funds for land acquisition for affordable housing that will remain affordable in perpetuity;
Provide financial housing assistance to very low-, low- and moderate-income households;
Encourage homeownership and promote foreclosure prevention programs for very low-, low- and moderate-income households;
Collaborate with the Housing Finance Authority of Pinellas County (HFA) to produce affordable housing units and provide financial assistance to very low-, low- and moderate-income households; and
Support non-profit housing development corporations to develop, own and manage affordable housing.
Provide regulatory and financial incentives to help offset the cost of providing affordable units as part of new housing (re)development.
Support the preservation of existing and the development of new manufactured home communities as a source of affordable detached single-family housing both for rental and homeownership, including increasing opportunities for resident-owned parks.
Coordinate with communities to remove health and safety issues.
Consider opportunities for leveraging and streamlining infrastructure improvement projects to upgrade conditions for manufactured home communities.
Coordinate with public and private partners to create a manufactured home strategic plan which, at a minimum, should consider: habitability and resident protection; management, licensing, and registration; enhancement or redevelopment opportunities; regulatory tools; and inspections and enforcement.
Encourage the provision of housing to meet special needs.
Ensure that barrier-free housing is available.
Encourage barrier-free and accessible housing through home improvement programs and Building Code enforcement.
Allow housing for persons with special living needs in residential neighborhoods.
Utilize the Land Development Code to allow community residential homes and foster homes within residential neighborhoods and establish associated criteria.
Utilize the Land Development Code to prohibit the location of community residential homes and foster homes within the Coastal High Hazard Area.